ARTTT-FEST
1st April 2017 1pm - 6pm (see flyer below for full details)
How to buy wristbands: Adults £10 Children £5 Family Ticket (2 adults and 2 children) £25
Send a cheque to school (payable to Holmer Green Senior School)
PayPal (click here)
Who we are...
We are the 6th Form music students at Holmer Green Senior School and we are planning to put on a charity music festival in aid of the charity Robs ARTTT (A Rare Teenage Tumor Trust).

Profits will go towards the Robs ARTTT charity which can be found here: http://www.robsarttt.co.uk

This project is very signficant for us at the ARTTT team as the charity was pioneered by a former student of our school, Rob Holland. Rob was 15 when he tragically passed away from a cancerous tumour in his stomach shortly after forming his charity. We want to continue Rob's legacy by spreading awareness of the tragedy of the disease on the 10th anniversary year of his death. Your donation would not only help us fund our project but achieve the greater goal of spreading the word of this horrific disease to the further reaches of the world.

The ARTTT-Fest, Holmer Green Senior School and Rob's family would be extremely grateful for your support and any form of donation is appreciated. The thought of saving the lives of people with Rob's condition and fighting against this torrid disease is what inspires us to appeal to you. Hopefully this inspires you also.
Acts confirmed so far:
Counterpoint – A collection of Holmer Greens elite A level musicians. The group was formed in late 2015 by vocalist Emily White, guitarists Sam Hodgson and Toby Hale, drummer Josh McEvoy and bassist Shaun Jillians. In 2016 the band explored a different musical direction and employed the services of pianist Aidan Fulford-Lee, saxophonist Joe Eales, percussionist Tom Baldwin and cornetist Toby Miles. After multiple successful performances at "Jungle-Bucks" and "WinterFest", the groove-rock band will be expecting to truly stand out from the crowd. A must see.
Recövery – An up and coming four-piece hard rock band from High Wycombe, Buckinghamshire featuring frontman Jack Runciman, lead guitarist Sam Hodgson, bassist Shaun Jillians and drummer Joe Taylor. They have a credited localised following through social media plus the success of their cover of the John Scofield tune "I Don't Need No Doctor" and 2017 has the potential to be a phenomenal debut year for the band. Recövery's unique rock/blues styling is definitely something you don't want to miss.
Holmer Green Senior School Choir
Holmer Green Senior School Choir have been performing together for a long time now. They have performed at Bucks Live events 'Jungle Buck' and 'Winter Fest'. They also performed at a music teachers conference 'Musicate'. Every time they perform they sound better and better. Come along and hear their songs.
Holmer Green School Band
Holmer Green School Band are growing from strength to strength. They are working really hard on a modern repertoire, sung by one of our year 11 students Katie Cherry. They are definitely an act not to be missed.
Littlewing
LITTLEWING are a young Alt-­Rock band from High Wycombe, Bucks. Annie Needham (Guitar + Vocals), Joe Humphrey (Drums) and Nick Morgan (Bass + Vox). After releasing their debut EP 'Barricades' in early 2015 they spent the rest of the year playing a long line of small festivals. So far they have spent 2016 expanding their gig circuit and increasing their fan base. Making an impact on the London scene with recent success at The Alley Cat, O2 Islington and fresh from the stage at THE O2 FORUM, Kentish Town. Promoters Absent Kelly described the Buckinghamshire trio as "brooding yet catchy indie, fronted by the captivating female vocals of frontwoman, Annie"
Littlewing are headlining ARTTT Fest
https://www.youtube.com/channel/UC94njVUoeVBDtcEa37ebzIw
Crossways
Crossways are a four piece indie/pop/rock band who play regularly on the local and London circuit as well as playing the Main Stage at last summers BURYFields, Chesham.
https://soundcloud.com/crossways-1
Dolly and the Dinosaur
Dolly and the dinosaur are a Reading based four piece seeking to deliver anthemic, indie/alt rock songs to the masses. Formed in early 2016, DATD aim for their music to make as many people as possible feel euphoric and awesome. In June 2016, they won battle of bands at Rock Bottom festival and have high aspirations to succeed in the crowded music industry.
https://soundcloud.com/dollyandthedinosaur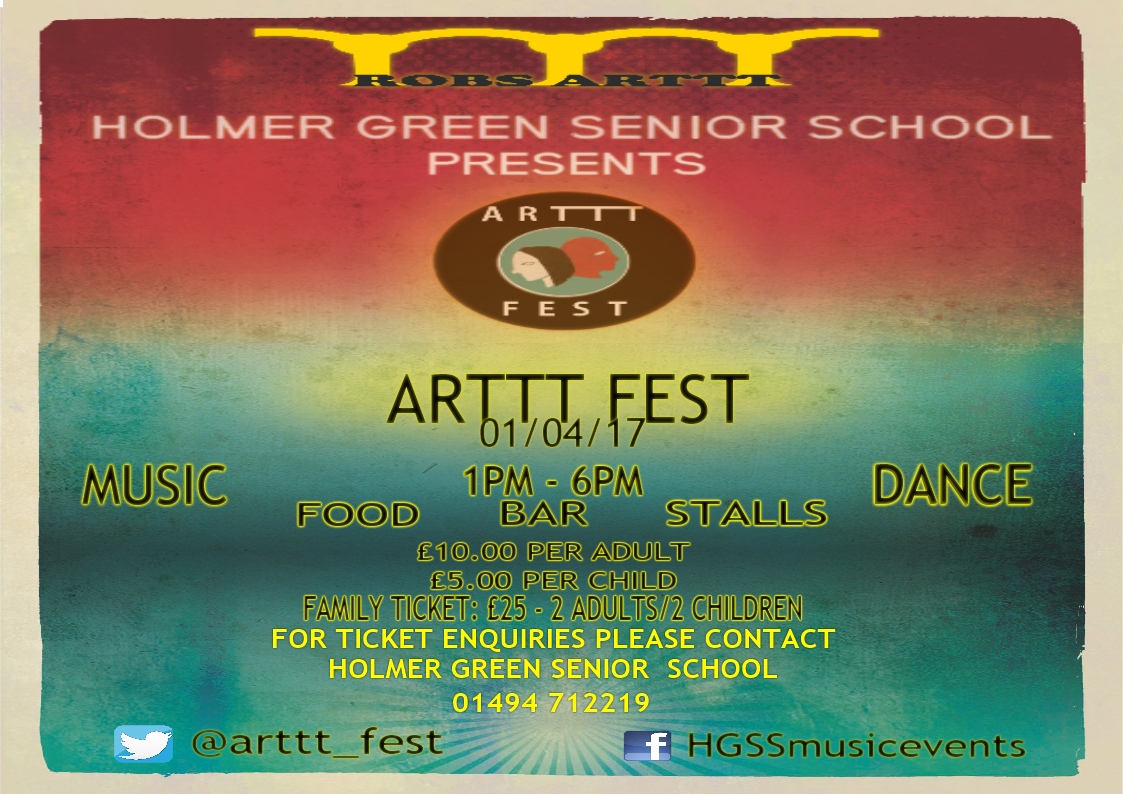 To Pay using Paypal Select your choice from below